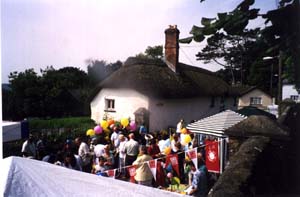 The market at Chulmleigh Fair

Chulmleigh Old Fair has taken place every year since King Henry III granted a Royal Charter to the Town in 1253. Even during the darkest days of two world wars Chulmleigh managed to maintain this histroic event.

The 750th Anniversary will be celebrated in 2003, starting on 22nd July until 27th July.

All of the ancient traditions will be upheld including the money scramble, although these days the coins are no longer heated until red hot!

A large white glove symbolising the King's gauntlet will be displayed as usual outside the Town Hall for the duration of the Fair.

Chulmleigh Old Fair is an entirely community run event with any profits being used to keep admission charges to a minimum and to provide the many generous money prizes which are available to everyone. Most events are FREE. A distinct Medieval theme will be evident this year with much medieval style entertainment and re enactment. Everyone is encouraged to wear medieval costume.

Events take place all week with a different programme each day. Full listings on the Events Page of this site, or telephone 01769 580028.
---